About Joel Levey, Ph.D., Author and Stress Management Expert
Return to Relaxation CD page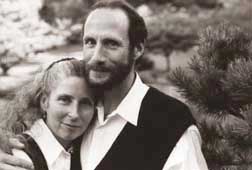 Dr. Joel & Michelle Levey have devoted their lives to exploring the frontiers of extraordinary human performance and their pioneering work spans many disciplines.
They are co-founders of Seattle-based: WisdomatWork.com; InnerWork Technologies, Inc.; The International Center for Corporate Culture & Organizational Health; and SportsMind, Inc..
Over the past 30 years their work in the world has lead them to work with leaders and teams in over 200 leading organizations around the globe including: NASA, MIT, World Bank, SRI International, Intel, Microsoft, Hewlett Packard, Qualcomm, Intuit, Phillips-ATL, Abbott Labs, Ciba-Geigy, Rhone-Poulenc Rorer, Johnson & Johnson, Gulf, Shell, Petro Canada, Imperial Oil; Washington Mutual Bank, Group Health Cooperative of Puget Sound, Swedish Medical Center, Fred Hutchinson Cancer Research Center, Weyerhaueser, Menninger Foundation, Boeing, Seattle Center, Miraval Resort, and Five Mountains Foundation Hawai'i.
Joel & Michelle have directed clinical programs (Biofeedback, Stress Management, Pain Management, Psychophysiological Therapy, Hospice Training) for Group Health Cooperative of Puget Sound and Children's Medical Center in Seattle, lectured at dozens of Universities and medical schools, served as faculty at Antioch & Bastyr Universities, and the Indian Institute of Management (IIM) in Ahmedabad India, and as core faculty for the International Center for Organization Design and the World Business Academy.
Their work in "complementary & alternative medicine" (CAM) and in "meditation & medicine" has inspired faculty and students at the University of Washington School of Medicine and School of Nursing, Bastyr University, Antioch University, Washburn University, University of Minn. Center for Spirituality & Healing, and American Medical Student Association.
The Leveys have coached a number of Olympic and World Class champions and designed & directed biocybernautic training for the US Army Green Berets' acclaimed "Ultimate Warrior Training Program", aka "Jedi Warrior." This six-month full-time training program was described by West Point leaders as, "The most exquisite orchestration of human technology that we have ever seen." Michael Murphy & George Leonard, founders of the Esalen Institute, praised this work, saying, "Jedi Warrior was the most extensive and advance leadership development program to be offered in modern times."
The Institute of Noetic Sciences--for whom they have participated in numerous research colloquiums--honored them as leading contemporary "teachers of transformation" for their work in mind-fitness and extraordinary human performance.
The Leveys' published works have been translated into 9 languages and include: Living in Balance: A Dynamic Approach for Creating Harmony & Wholeness in a Chaotic World; Wisdom at Work; A Treasury of Tools for Cultivating Clarity, Kindness, & Resilience; A Moment to Relax; The Fine Arts of Relaxation, Concentration, and Meditation: Ancient Skills for Modern Minds; Simple Meditation & Relaxation; Luminous Mind and Corporate Culture & Organizational Health: A Critical Analysis of How Workplace Culture Influences Business Success.
They have contributed chapters to many anthologies including: Learning Organizations; Voices on the Threshold of Tomorrow; Intuition at Work; Community Building in Business; Rediscovering the Soul in Business; and The New Bottom Line.
Joel & Michelle are active in interfaith community work with a diversity of leaders from various faith traditions and social justice movements, and are founders of the International Center for Contemplative Inquiry.
The Dalai Lama has been an advisor and supporter on a number of the Leveys' projects and has encouraged them in their work and teachings saying, "You are presently engaged in work that has great prospects for bringing the inner sciences and technologies of human development and transformation to a very wide section of people who may not under ordinary circumstances come into contact with these teachings."
The Leveys have a base in Seattle as well as Hawaii where they steward The Kohala Sanctuary, a beautiful conference center and gathering place in the Aloha Spirit and organic permaculture farm in North Kohala on the northern tip of the Island of Hawai'i. They work with organizations and communities around the globe to inspire people to deepen the wisdom, wonder, compassion, resilience, and creativity they bring to life.
Return to Relaxation CD page